Pros and Cons of Accepting Free Casino Chips
No deposit bonus codes are available across the web at various online mobile casinos. These freebies can be seemingly worthwhile with offers of free spins and chips, but it is necessary to understand the pros and cons associated before redeeming them. Let's dive deeper into the benefits and drawbacks of free casino chips, and how to deal with pesky rollovers and max cash outs!
Let's Start With the Pros!
Redeeming free chips and no deposit bonuses upon signup allow for a risk free gambling experience. This ingratiates new players easily into the mobile casino genre, and allows them to test out the games of their choosing without having to risk any real money. Testing the casino is not only about testing the games, it's about looking into the payment methods, cash out speed, minimum and maximum withdrawals, along with the support and security the platform provides.
Winning real money is another valuable asset that comes with free chips. Some mobile casinos will imply that free chips are only for some sets of their games, whereas some will offer their entire library. You can win real money with the free chips earned on signup, and mobile casinos offering more game types to play on will give you the chance to actually score without spending a dime!
Creating strategies and building a bankroll are more fantastic ideas when redeeming that first set of free chips. Maximizing value and finding the right games with low minimum bets will help a welcome package of $25 to $50 in free chips last what seems like a lifetime!
The Cons of Accepting Free Casino Chips: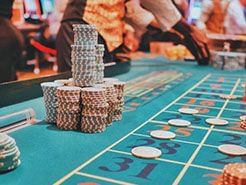 Rollovers. This word is as dreadful to bettors as losing money in some cases. It requires you to play the amount you have in your wallet. If you attain $50 in free chips, you will most likely have to spend all of it if not more to cash out. This won't be a problem if you are able to win and stay above your balance, but net losses can take funds away quickly and it's important not to get caught up emotionally over free chips.
Some mobile casinos as addressed earlier will only open up a part of their library or subject free spins to certain slots or table game titles. This may take away some of the fun especially if you have a certain game in your sites. This is a more rare feature as welcome packages usually allow players to test out the whole site, but this is something to be weary of when accepting free casino chips.
Finding the cash out limits is crucial to any mobile casino online. You must do some research as to how much you can take out weekly, and if there are any added restrictions to no deposit funds like free chips. There is nothing worst than winning big and not being able to cash out until a roll over is completed, or time has passed until another withdrawal is allowed.