Tips to Find Authentic Websites Offering Free Casino Chips
In an ocean of mobile casinos, it can be cumbersome to find authentic free chip bonuses especially for new players. The onus is on you to do some research, but luckily we've got you covered! Let's look deeper into what steps you should take to conquer the first phase of what could be a very lucrative gambling experience.
Verifying authenticity can be done one of many ways. Reading reviews of sites can be the first step in the right direction. Most times you can use your favorite search engine with some keywords many reviews will populate. These will range from paid to reviews to overtly aggressive complaints, but sorting through them and reading into the real user reviews can be profound when finding quality bonuses.
Seeking recommendations from friends and family who play, or from people online you may know from social media or forums works greatly too! Attaining referrals and sharing bonus codes is one of the best ways to entrust you can use these free chip bonuses risk free. Trusted sites and bonus aggregators can sometimes be your best friend by doing all the dirty work for you!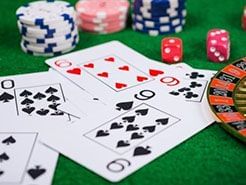 Legitimate mobile online casinos can also be accessed easily without an account being necessary. Any site hiding their content behind account creation or ad walls should most likely be stayed away from. Any licenses the mobile casino has along with the mobile payment methods they accept should be as transparent as the games they provide. SSL Encryption is also new age security to protect any funds you are depositing or withdrawing, and seeing any indicators of this would add to the mobile site's viability.
Any mobile casino without a support option must obviously be stayed away from, but as a player you should prefer instant options like a 24/7 toll free number or chat support option. This is just yet another way to feel safe before even journeying over to their promotions page. Once you arrive at the given promotions for the site, it is essential to see what type of welcome package they offer. Free chips can usually be attained with a first time deposit, but there are a select few that offer chips upon account creation.
Terms and conditions related to the mobile casino as well as the free chip bonus they offer must be looked over. As the player, you must know what type of games you can use the free chips on along with what type of roll overs and max cash outs are involved before creating an account. It takes a lot of verification and personal information to create an account at a mobile casino, so ensure the bonus offer as well as the platform itself is viable and authentic.